Dr Govindappa Venkataswamy's 100th birth anniversary: Google Doodle celebrates Eminent Ophthalmologist
The
Google Doodle
celebrated the centenary of very popular '
Opthalmologist'
Dr
Govindappa Venkataswamy
(1 October 1918 - 7 July 2006), popularly known as 'Dr V' among his patients, who flocked to the 'Aravind Eye Hospital' that he founded in Madurai, India. The largest provider of 'eye care' in the world. Venkataswamy, performed over 1,00,000 successful eye surgeries. In 1973, Venkataswamy received the
Padmashree award.
The
Google doodle,
visible in several countries, for instance, India, Australia, and New Zealand, features a mirrored landscape blurred on one side and clear on the other with a caricature of 'Dr. V' in the middle.
Born on this day in 1918 in Vadamalapuram (Awards: Padma Shri), Tamil Nadu, he was permanently crippled by rheumatoid arthritis. However, despite his own health issues, nothing could stop him from what he wanted to be.
Over his lifetime, he built a wide network of partnerships with institutions in India and abroad that continue to work with his organisation. Further, He is best known for developing a high quality, high volume, low-cost service delivery model that has restored sight to millions of people. Since inception, Aravind Eye Care System (a registered non-profit organisation) has seen over 55 million patients, and performed over 6.8 million surgeries.
To some of us bringing divine consciousness to our daily activities is the Goal. The Hospital work gives an opportunity for this spiritual growth. In your growth you widen your consciousness and you feel the suffering of others in you. -Dr Govindappa Venkataswamy.
The Aravind Eye Hospital which has now transformed into a major chain eradicating cataract related blindness, had begun as a 11-bed hospital under the aegis of Venkataswamy in 1976. Despite his physical constrains, Dr V learnt to perform surgery to remove cataracts and could perform 100 surgeries in a day.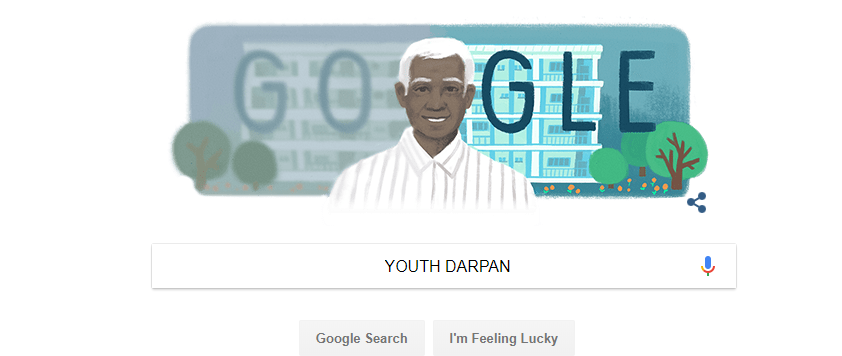 On his 100th birth anniversary, Youth Darpan pay homage to Padmashri Dr. Govindappa Venkataswamy. An opthalmologist who dedicated his life to eradicate darkness in the life of blind people in throughout the world: Trilok Singh. Image source: Google.com
Moreover, Dr V, attended a school in his village where students had to write on sand which collected from the riverbank as there was no pencil and paper. Later he went on to study Chemistry at the American College in Madurai and earned a degree of M.D. from Stanley Medical College in Madras in 1944.
Right after completing his medical school he went on to join the Indian Army Medical Corps. However, a severe case of rheumatoid arthritis nearly crippled him and his career took a setback. He was confined to bed for a year. When he returned to academics, Venkataswamy studied for a degree in ophthalmology in 1951.
Govindappa Venkataswamy, used to organise eye camps in rural communities, which would serve as a rehab centre for the blind and a training session for ophthalmic assistants. Upon his return to medicine, he trained as an ophthalmologist since his condition barred him from training in obstetrics - his chosen field. Despite his health issues, he learned how to perform surgery to remove cataracts - the leading cause of blindness.